Master's in Human Resources Management
Di Zhao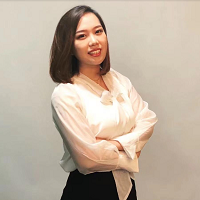 In the fall of 2010, Di Zhao left her home in China to become an exchange student at a small high school in Southwest Michigan. It was one of the best decisions she ever made.
In America, "students are working more as a team, and team-working skills and ability are really important," she says. "In China, it's more like everyone is doing their independent study. But here in the States, team-working is very important if you want success later in your career."
After graduating, Zhao returned to China to earn a degree in finance at Zhengzhou University, an institution with 33,000 students in a city of more than 10 million. But her experience at Newaygo High School (student population: 484, at last count) still resonated with her. So, when she researched graduate programs in human resources management, she looked in the United States; and, after receiving eight offers, picked Georgetown.
That was her second smart decision, but it was not a particularly easy one.
"I left my comfort zone behind, left all my family and friends for a totally different environment—and I'm proud of myself" for persevering, Zhao says.
At Georgetown, Zhao was engaged in the kind of project-based, team-oriented, real-world training she had come to love.
"The program is designed to be very business-oriented, very practical," she says. "For example, for our Capstone program we had an option to choose a consulting project. We actually worked with real organizations as their consultants to help them solve human resources-related problems."
After graduating in 2020, Zhao worked as a HR Assistant and Specialist for a global gearbox OEM (original equipment manufacturer) for wind turbines. And, in 2022, she accepted a position as a compensation analyst for Mercer, one of the world's leading human resources consulting firms.
"Because I have a bachelor's in finance and a master's in HR," she says, "that makes compensation a perfect fit for me."