Master's in Human Resources Management
Bryan Martin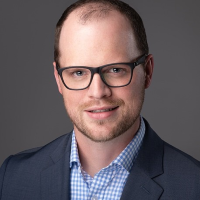 Bryan Martin is a WLLED HR Specialist for OPM, and if that sounds bureaucratic — well, it is. OPM (the U.S. Office of Personnel Management) is, after all, the very essence of a federal bureaucracy: it has 2,500 employees, a budget of more than $300 million, and is headquartered about four blocks from the White House.
But in another sense Martin's job is not bureaucratic at all, if "bureaucratic" means, according to another definition: "overly concerned with procedure at the expense of efficiency or common sense."
Actually, it's just the opposite.
WLLED stands for "Work Life and Leadership & Executive Development." Martin's job is to work with senior HR leaders throughout the federal workforce, help them keep up with recent trends in issues like work-life balance, and create programs that support that goal.
"I absolutely love working with professionals who are passionate about public service, and creating a benefit structure for them that allows them to do what they love while also not sacrificing their family and other things in their life that are worthwhile," Martin says. "I'm like an internal consultant: I help agencies implement programs that make employees enjoy work more."
Martin got his start in human resources in the U.S. Air Force, where he served for nearly eight years. Later he worked for the Wounded Warrior Project for five years and for the SHRM Foundation, where he designed the relaunch of the Veterans at Work program.
He began Georgetown's Human Resources Management program in 2019, when he was at the Wounded Warrior Project, and graduated the next year with a 4.0 grade-point average.
"I had a really wonderful mentoring experience with one of my professors, who really helped me uncover what I was passionate about," Martin says. While he enjoyed human resources, "I wasn't sure what that meant for me career-wise, so I really enjoyed having a professor who was willing to meet outside of class routinely to help me figure that out."