Master's in Integrated Marketing Communications
Ines Okecki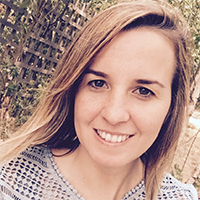 For some international students, it can be a difficult choice: After graduating with a master's degree from Georgetown, should they stay in the United States or go back home?
Of course, this decision involves many factors, which are different for every student. And the choice is never perfect—well, almost never. Because for Ines Okecki, a native of Argentina and graduate of the inaugural class of the Master's in Integrated Marking Communications program, the decision was about as perfect as it gets.
After graduating in May 2017, Okecki interviewed in New York City with a young Argentine-based high-tech firm called Bluesmart, which had generated a lot of buzz by creating the first "smart" luggage with its own GPS system, built-in charger and scale, and smart-lock security system. Bluesmart needed someone based in Buenos Aires to work with the rapidly growing U.S. market.
Okecki got the job. She got to move back home. And now she gets to make regular trips to the United States, the first of which was for a media presentation of Bluesmart's Series 2 at the MoMA Design Store in New York this November.
"It's the best of both worlds," she said.
Before coming to Georgetown, Ines worked as a Brand Manager for an airline company in Argentina, where she got experience with things like sales promotions—what she called the "tactical campaigns." But what she needed most was something broader: An integrated way to look at the whole process of a marketing campaign and how the parts fit together.
She got that at Georgetown.
"I needed more strategy to plan campaigns and think holistically," she said. "Georgetown's program gave me exactly what I needed to jump in my career."