Master's in Integrated Marketing Communications
Eliana Bardi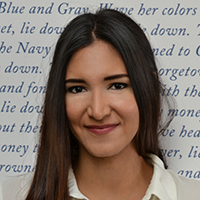 Traveling from El Salvador to a graduate program in Washington, D.C., was a big step for Eliana Bardi—and, in some ways, a daunting one too.
She was well qualified for Georgetown University's Master of Professional Studies in Integrated Marketing Communications, having worked in El Salvador as a Marketing Coordinator for Coca-Cola. She was fluent in Spanish and French and had taken English in school. Still, it's one thing to study a language in primary and secondary school, and another to rely on it for your graduate education.
"As an international student, I had a lot of excitement," Bardi recalls, "but also a lot of anxiety." She needn't have worried. Once at Georgetown, she befriended classmates from Thailand, Argentina, Egypt, Italy, Guatemala, China, the United States, and other countries. But more than that, she saw how Georgetown celebrated different cultures and perspectives.
"I loved it," Bardi said. "I think the diversity of the people coming to the program is its greatest asset."
Among her favorite courses was Digital Analytics & Measurement, which examined processes for collecting, analyzing, and presenting data across various platforms. She was able to then put those skills into practice for her Cause Consulting class, where she did new media outreach and publicity for the United Nations.
But it was another opportunity facilitated through the program that helped Bardi land the job that would be a perfect fit. At a class field trip to the World Wildlife Fund (WWF), she met staffers who were interested in her work with corporations. She was later offered a summer internship, which led to a job as WWF's Program Officer for Private Sector Engagement, where she works with corporate partners to develop cause-related marketing initiatives that support sustainable development.
"The goal is to unlock the power of the private sector through conservation and sustainable development," Bardi said.