Master's in Integrated Marketing Communications
Alex Gray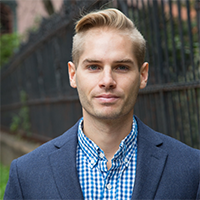 If you grow up on Hatteras Island, N.C., that narrow but immensely long stretch of land that separates the Atlantic Ocean from Pamlico Sound, there's a good chance you'll be drawn to the water: In fact, it's almost expected.
"My family is full of surfers and anglers," said Alex Gray, a 2017 graduate of Georgetown's Integrated Marketing Communications (IMC) program. "It's almost inevitable living there."
Pretty much inevitable, too, was that Gray would come to love sports like surfing, spearfishing, and freediving ("It's basically going down without a tank") and want to do all he could to help protect the world's oceans.
Gray, 29, is now the Senior Manager of Digital Outreach at Oceana, and while it's fitting that he works for the world's largest international advocacy organization dedicated solely to ocean conservation, it would be a stretch to call it inevitable. What prepared him were his undergraduate degree from the University of North Carolina at Chapel Hill and his master's degree from Georgetown.
During his two years studying at Georgetown, Gray was promoted from Digital Campaigner to Digital Campaign Manager to his current senior position. He said the IMC program showed him the importance of fostering creativity and consistency in marketing across multiple platforms. It also stressed traditional marketing concepts such as defining an audience, building a brand, and evaluating performance.
Gray is proud of Oceana's role in urging the Obama administration to protect the Atlantic Ocean from offshore drilling. However, that's a fight that's far from over.
For Gray, working for Oceana is more than a job:
"I love the diverse set of challenges my work provides," he said. "And having grown up on the water, this is an issue I care deeply about."