Master's in Integrated Marketing Communications
Worakorn "Puff" Thongkijlaohachai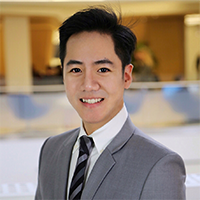 It was like working at a really interesting job—one in your chosen field, where you liked and respected your colleagues, collaborated on challenging projects, and learned from supervisors who were experts in their fields.
That's how Worakorn "Puff" Thongkijlaohachai described the atmosphere at Georgetown's graduate program in Integrated Marketing Communications.
After four years of doing marketing in his native country of Thailand, Thongkijlaohachai realized that he needed more than the theory-driven curriculum other programs offered: He needed real-world, practical skills he could apply to his job. He found that—after a global search—at Georgetown.
"I realized that one of the skills I needed to improve was my communication, especially in marketing," he said. "Georgetown had the most unique courses and approach of the schools that I saw."
Through the program, he also learned how to use social media more effectively.
"It's a very big area in marketing," he said, "and Georgetown exposed me to the knowledge and skills I was looking for."
And his diligence paid off: Thongkijlaohachai received the program's Golden Bulldog Award for "IMC Luminary" in 2016, and was honored with the Tropaia Outstanding Student award when he graduated the next year. A professor also recommended him for an internship at Hilton Hotels & Resorts, where he developed marketing proposals for Hilton's vacation properties.
"Diversity, practicality, and networking opportunities from my peers and instructors are three key factors that made my time at Georgetown a life-changing experience," Thongkijlaohachai said.