Master's in Integrated Marketing Communications
Alina East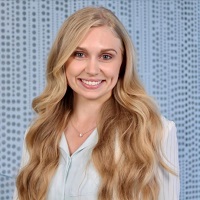 It takes initiative and courage to go to a foreign country and launch a new career, and Alina East had a good deal of both when she moved from her native Belarus to attend the Master's in Integrated Marketing Communications program at Georgetown's School of Continuing Studies.
"For someone who comes from a different country and doesn't have a marketing background, it was like a completely new chapter of my life," she said. "I had no idea if I would get enough experience to get a job and have the same level of professional and social ties that I would have in my home country."
In Belarus, she had worked in sales and business development for an e-commerce technology agency, but she had little experience in marketing. At Georgetown, she not only learned about marketing but was able to practice those skills with an actual client. In addition, she worked as a Program Assistant for Georgetown's Liberal Studies programs, where she ran email campaigns and conducted research into the needs, interests, and priorities of students and alumni.
A few months after graduating from Georgetown in 2019, East became Marketing Coordinator at LinkedIn's San Francisco office, where she works across company teams and uses multiple data sources to assess the company's competitiveness in a variety of areas. She credits her success not only to the technical skills she learned at Georgetown, but also to the support she received from faculty and staff who understood the needs of international students.
"I knew that I could reach out to them with any questions or any concerns," East said. "It's not just like they have students come and go; they try to invest their time and their energy with students and connect with them."