Master's in Integrated Marketing Communications
Ronique Forgie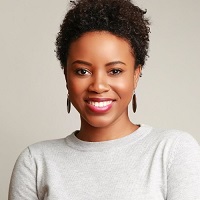 With its outdoor beer gardens and Old-World charm, Munich is a wonderful place to visit in the spring, summer, or fall. It's much different, however, in the dead of winter, when a pandemic is closing in.
Ronique Forgie moved to Germany on New Year's Eve, 2019, for an overseas stint with her German employer, a business insurer. But just 27 days later, Germany's first confirmed COVID was discovered not far from Munich, and in the coming weeks the curfews and lockdowns began.
A magna cum laude graduate of the University of Pennsylvania, Forgie was used to challenging herself. Indeed, it was one reason she enrolled in Georgetown's graduate program in Integrated Marketing Communications in 2019. While she had a good marketing job, she felt she could be learning more.
Whoever said virtual classes can't be personal or lead to great friendships…well, they weren't locked down over the winter, in a foreign country where they didn't speak the language.
"What grounded me were the professors, who were just supportive of me as a person," Forgie said. "I was studying for my degree so far away from the other students, and just their warmth made me feel accepted."
She recalled group projects wherein everyone pulled their own weight—and more—and the long Zoom discussions they would have on Saturdays.
Forgie graduated in 2020 and is now a Senior Specialist for Capability Marketing at Bain & Company, one of the world's largest management consulting firms. Looking back, she is especially appreciative of her Capstone advisor.
"I really wanted someone to push me to think deeper," Forgie said. "And I felt like in the last couple of months that's what she did for me."