Master's in Higher Education Administration
Nehal Gajjar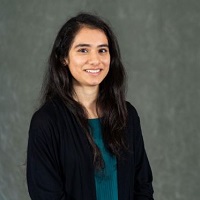 A key advantage for students at Georgetown's School of Continuing Studies is the opportunity to work with professors who are either working professionals or scholars in their fields—or both.
Nehal Gajjar, one of the first students to complete the graduate program in Higher Education Administration, took advantage of this academic synergy in more ways than one. For her Capstone, or thesis, she examined the issues involved in creating a graduate program in higher education. So it was especially fitting that her Capstone professor, Faculty Director Stephanie Kim, Ph.D., had just launched a successful graduate program in higher education.
"I love the program," said Gajjar, whose Capstone examined the creation of doctoral programs. "It helped me better understand the higher education system and how to be a better professional so I could help my students today, no matter what the challenging times are, with everything going on in the world."
Last May, six months before graduating, Gajjar was named Coordinator of Academic Affairs for the Security Studies Program (SSP) at Georgetown's Walsh School of Foreign Service, one of the University's largest graduate programs. It's the kind of indispensable yet rewarding job that Gajjar has been preparing for since her undergraduate days at the University of Indianapolis, where she was an Orientation Leader, Presidential Ambassador, Resident Assistant, and Treasurer for the student government.
At SSP, Gajjar is responsible for the academic counseling for 200 of the 500 students in the program and is involved in admissions and scholarship decisions. She credits SCS with not only preparing her professionally, but also showing her how to incorporate Georgetown's core values of Cura Personalis (care of the whole person) and "people for others" into her work with students.
"Seeing them develop and grow and become more competent in their field is very important to me," Gajjar said. "These students are our future leaders, so being able to equip them with the knowledge and the competence they need is very important. That's what really makes me passionate about higher education."