Master's in Higher Education Administration
John-Otis Blanding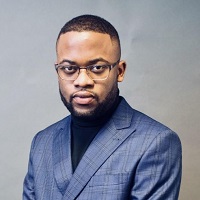 John-Otis Blanding was an International Business major at Auburn University, in Auburn, Ala. But near the end of his senior year he knew his career would take a different path.
He loved Auburn and being part of the "Orange Family." But as president of the Black Student Union at a predominantly white institution, he faced challenges as well—challenges he had to navigate not only for himself, but for other students of color whom he had been chosen to lead.
"I realized I was kind of good at it," Blanding said, with characteristic modesty. "I also had a passion for it."
Things moved quickly from there.
"I completely changed my trajectory and came to Georgetown for the Higher Education Administration program," Blanding said, "because I found so much value in the higher education system and the way that administrators are able to craft, not only a campus environment, but a larger, external, social environment. That was really my inspiration."
At Georgetown, his courses dealt with issues like diversity, social justice, and student development. One of the most valuable experiences was working as a Graduate Research Assistant with Judith Pérez-Caro, Director of Equity and Inclusion at the Georgetown University Law Center. In addition to counseling students and mediating disputes, he helped Pérez-Caro assemble a toolkit of resources that faculty can use to address the needs of a diverse student body.
Last August, five months before graduating from Georgetown (he took most of his courses in person but finished his degree online) Blanding was named Program Coordinator for Diversity Initiatives and Human Resources at Emory University Department of Medicine in Atlanta.
His is a critical job at a critical time. Recently, Blanding spoke with Jada Bussey-Jones, M.D., his supervisor and one of three faculty members who signed a letter describing the challenges Atlanta faces with racial discrimination and a COVID-19 pandemic that has hit minority communities particularly hard.
Blanding told her about the complex emotions he was feeling and the nervous energy that seemed to consume him and so many others at this difficult time.
"And I was talking to her about how I was able to use the energy that I have right now," Blanding said, "to direct it toward projects we can ultimately use to educate our different audiences."