Master's in Higher Education Administration
Hillary Lundberg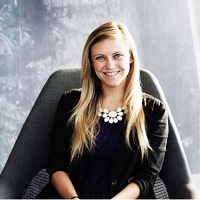 Hillary Lundberg thrived as a college student in Southern California—so much so, in fact, that she decided to devote her career to helping other young people have a similar experience.
At Claremont McKenna College, Lundberg excelled in academics and student government, but it was her work as a student interviewer—talking to high school students about their college plans—where she made perhaps her biggest contribution.
Originally from Seattle, she grew up in a family where college wasn't just an expectation, it was almost a forgone conclusion. At Claremont, she met people from similar backgrounds but also students who were the first in their families to go to college. It was these students she most wanted to help.
"I wanted to go into admissions, specifically, because I saw the role that admissions officers can play in bringing these really valuable and important voices to a campus community," Lundberg said.
After graduation, Lundberg worked for a year as an Admissions Counselor at Catholic University, then moved to Georgetown, rising from Admissions Counselor to Assistant Director of Admissions in four years. For the past year, she has been Assistant Director of Admissions at Northwestern University, in Evanston, Ill.
Lundberg entered the Master's in Higher Education Administration program in 2018 and graduated this year, 2020. She said Georgetown's Jesuit values of cura personalis ("care of the whole person") and "people for others" reinforced her idea that working in admissions was "inherently human work" and so much more than being a mere cog in "the big machine of college."
"The program really gave me some valuable context and tools, to not only understand the critical issues in higher education in general," Lundberg said, "but to really be a better advocate for and partner with students in this process."