Master's in Higher Education Administration
Ana Gutierrez-Perez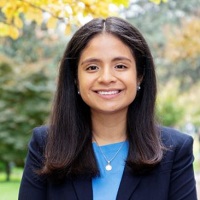 Looking back, it seems fitting that Ana Gutierrez-Perez would choose a career helping college students feel at home in a university environment.
The eldest child in a large Fort Worth family, Gutierrez-Perez, was always looking out for her five younger siblings and making sure they felt protected. And when it came time for her to go to college at Tarleton State University, southwest of Dallas, she looked for ways to support her peers there, too.
She became a resident assistant, participated in Greek life, and served four years in student government, becoming student vice president her final year.
Two years after graduating, Gutierrez-Perez moved to the East Coast to attend the Master's in Higher Education Administration program at Georgetown's School of Continuing Studies. While it was exciting to be in Washington, it was also hard to leave Texas, the only place she had ever lived. Hoping to get a graduate assistantship, she was open to most anything, but the position she was offered—working on Main Campus in transition programs for incoming transfer students—proved to be the perfect fit.
After all, hadn't she just "transferred" herself, moving 1,300 miles to take advantage of all Georgetown had to offer?
"Once I stayed in that role, I realized that my calling was helping new students find a place of belonging on campus, to try to find a way to contribute to it, even if it's in small ways," Gutierrez-Perez said.
Gutierrez-Perez, who graduated in 2020, is now Senior Program Coordinator, First Year Experience, at Tulane University in New Orleans. Looking back, it seems she was always preparing for a career in student affairs. But she credits Georgetown's program and Faculty Director Stephanie Kim for providing the support and technical knowledge she needed to succeed.
"I wouldn't have been able to do it without her," Gutierrez-Perez said.