Master's in Higher Education Administration
Seandra Mitchell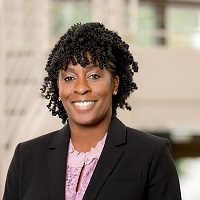 Seandra Mitchell's goal is easy to articulate, but difficult to achieve. It will take a lot of time and hard work, an abundance of empathy, and a bedrock belief that institutions and society can and do change.
Simply put, Mitchell, a native Milwaukeean and Vice President of Student Affairs and Campus Inclusion at the Milwaukee School of Engineering, wants all of MSOE's 2,800 students to feel like they belong, that MSOE is their school, regardless of who they are or where they come from.
"Nationally, there is a deficiency in diversity in STEM education, and currently we have a ways to go," says Mitchell, who has served at MSOE for 14 years, more than six of them as Dean of Admissions. "But I think we've started to move the needle, which is exciting."
When Mitchell looked for online graduate programs, the Georgetown Master's in Higher Education Administration program stood out for the depth of its offerings and quality of its faculty. For her Capstone, Mitchell focused on the need for a bias reporting system at a university in the Midwest. Now, just months after being named to her new position, MSOE's faculty-staff Diversity, Equity & Inclusion Committee is creating just that as well as providing diversity training to faculty and staff.
In addition, the university is reaching out to the community by providing math and science training to students at the K–12 level.
At Georgetown, Mitchell learned that making the case for diversity and inclusion needs to go beyond personal stories, as important as they may be.
"That was the part that was eye-opening for me," she says. "As an African-American woman, I may share my personal experiences, and those I hope people find valuable. But beyond the personal, anecdotal information is the actual research that supports why this work is so important."