Leadership Coaching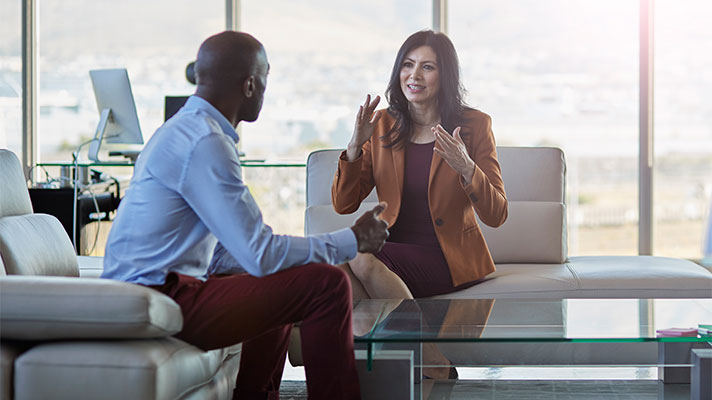 Executive Certificate
On-Campus Format
Become a change-agent in organizations by studying coaching within a leadership context and understanding how to create productive relationships in the coaching role.
Apply Now
Request Information
The world of leadership is complex. Regardless of the type of organization — corporate, nonprofit, government, educational institution — leaders are challenged to adapt and grow in order to uphold the mission and organizational objectives. Leadership Coaching is a powerful tool to help them do so. The Leadership Coaching Program in the Institute for Transformational Leadership at Georgetown prepares coaches with the mindset, presence, and skills to challenge and support leaders. As a student, you'll grow by focusing on both the being and doing of leadership coaching. This deeply transformative program goes beyond teaching coaching skills and challenges students to grow as human beings in order to help them grow as coaches.
Ideal for: Experienced professionals

Ideal for

Experienced professionals

Duration: 8 courses over 8 months

Duration

8 courses over 8 months

Tuition: $13,995

Format: Online & in-person cohorts available

Format

Online & in-person cohorts available

Schedule: All day, Tues-Thurs, once a month

Schedule

All day, Tues-Thurs, once a month

Semester of Entry: Fall, spring, summer

Semester of Entry

Fall, spring, summer
Testimonials from current students and alumni.
The program was a personal life transformational experience; it opened my heart to welcome everyday life opportunities from different vantage points and nourish every experience. I was supported, challenged, and uplifted, which has inspired me to show up for my clients and the world with warmth, authenticity, and openness to endless possibilities."

Joyce Weru Leadership Coaching

Without a doubt, attending this program was one of the most transformative experiences of my life...both professionally and personally. It truly made me a better human being."

Tony Thomas Leadership Coaching

I learned so much from the faculty and my classmates about how to be a good coach. What I didn't expect was that I also learned how to be a better human being. The program is transformative, both personally and professionally."

Virginia Hill Leadership Coaching

The Leadership Coaching program has been the most profound developmental and transformational opportunity I have had in my life. It is designed to help you gain awareness of your own leadership impact, identity, and goals."

Thiago Licias de Oliveira Leadership Coaching

Whether you want to be a coach, are a coach or are a leader who is dedicated to getting the very best out of themselves and from their people—this is the best educational experience you could give yourself."

Guy McLeod Leadership Coaching
Upon successful completion of the certificate, you'll be able to:
Articulate the role coaching plays in leadership, organizations, and transformation
Demonstrate the use of self as an instrument of change
Coach leaders at the Professional Certified Coach level as defined by the International Coach Federation
Apply adult development and complexity theory to coaching leaders
Coach leaders within a systems context
Identify the role culture and identity play in coaching and leadership
Recognize the polarities that impact a leader at the level of self, team, and system
The Georgetown University Certificate in Leadership Coaching program is certified as an Accredited Coach Training Program (ACTP) by the International Coach Federation.
Shorter-format professional workshops provide opportunities to enhance your skills and stay current in your practice, or acquire new skills. Visit our list of workshops to learn more.
---