Degrees and Programs in
Graduate Liberal Studies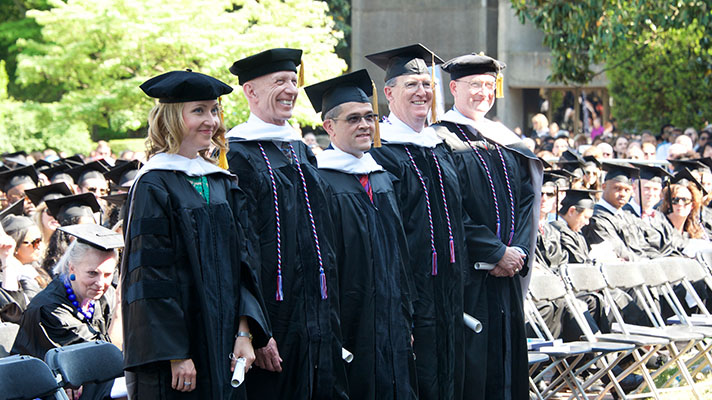 Doctor of Liberal Studies Degree
Cultivate skills in perception, analysis, communications, and creative thinking through an interdisciplinary curriculum rooted in human values and ethics.
Request Information
Overview
Georgetown's Doctor of Liberal Studies immerses you at the intersection of multiple disciplines. You'll study subject areas such as the humanities, public policy, international affairs, religion, and science while examining their effects on modern-day society.
You'll have the opportunity to design your own program, benefiting from Georgetown's extensive collections of research and scholarly work to guide you as you develop your thesis. Throughout your time in the program, you'll learn how to synthesize your existing knowledge in new and innovative ways while mastering skills in perception, analysis, communications, and creative thinking.
Built on a foundation of ethics and values, our program provides you with the comprehensive tools needed to achieve your personal and professional aspirations. Unlike Ph.D. programs, the goal of Georgetown's degree is not primarily research and the production of new knowledge; instead, our program encourages you to frame issues in ways that cut across traditional disciplines.
Ideal for working professionals, our program is designed to fit your schedule. We offer courses exclusively on weekday evenings and on occasional Saturdays, so you can earn your degree at a pace that suits your needs—without interrupting your career.
In the classroom, you'll learn and grow alongside a cohort of like-minded peers. The small size of our program ensures that you'll have ample opportunities to interact and exchange ideas with your classmates through reading, reflection, writing, and discussion. You'll also benefit from a faculty of distinguished experts and scholars, who will serve as your advisors, mentors, and advocates throughout your time in the program.
Upon completing the degree, you'll be armed with the interdisciplinary tools needed to examine connections, dissect complexities, and pursue a life of curiosity and intellectual advancement.
---

Research
Portrait of a Pirate: Myths and Unexpected Truths
Read more

about Portrait of a Pirate: Myths and Unexpected Truths
Doctor of Liberal Studies

Industry Trends
Criminal Justice in America: A Harrowing Depiction
Read more

about Criminal Justice in America: A Harrowing Depiction
Bachelor of Arts in Liberal Studies

Students
Andrew Aydin, Master of Arts in Liberal Studies '12, Wins 2016 National Book Award as Co-Author of March: Book Three
Read more

about Andrew Aydin, Master of Arts in Liberal Studies '12, Wins 2016 National Book Award as Co-Author of March: Book Three
Doctor of Liberal Studies