Doctor of Liberal Studies
Erika Cohen-Derr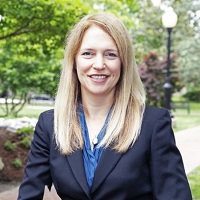 Ten years ago, when Erika Cohen-Derr was Director of Georgetown's Center for Student Programs and choosing a doctoral program, it would have been perfectly logical for her to pursue a Doctor of Education (Ed.D) degree or a Ph.D. in Education.
Perfectly logical and, for Cohen-Derr, not the right fit.
Instead, she took a leap of faith and decided that studying Stoic philosophers and post-modern thinkers, analyzing the concept of "placehood" in human relations and urban design, and rethinking old ideas about what kind of people can be leaders—that these pursuits, disparate as they may have seemed, had more relevance to her work at Georgetown than a more traditional course of study.
"The Doctor of Liberal Studies is designed to make connections across disciplines, to interpret information from difference lenses and different viewpoints, and maybe find connections that are not always evident because that's not how traditional scholarship works," said Cohen-Derr, who earned her degree in 2018 and is now Assistant Vice President of Student Affairs. "I think scholarship in general is becoming more interdisciplinary."
And so has the world of work and our increasingly nontraditional lives, where seeing society from multiple perspectives and heeding the voices of those long marginalized have become critical behaviors for the future. It's the job of student affairs leaders to bring out all those voices, especially for a school like Georgetown, which seeks to educate "the whole person" regardless of that person's origin or station in life.
At the School of Continuing Studies, Cohen-Derr worked on her thesis with a leading researcher on student leadership, formed strong relationships with other faculty, and learned from a diverse group of peers from a variety of fields.
"I could have gotten an Ed.D, and that would have made me maybe a better educator," Cohen-Derr said. "But this just made me a better thinker and broadened my understanding of the world."