Doctor of Liberal Studies
Dawn Carpenter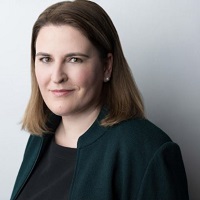 "We're a business show," Dawn Carpenter announces at the beginning of Episode One, Season Two, of her podcast: "What Does It Profit?"
That's true—technically. But it's not what you might expect.
In this episode, Dr. Carpenter, a 2020 graduate of Georgetown's Doctor of Liberal Studies program, talks to reformed Medellín Cartel moneyman Jorge Valdes. Others she has interviewed include Morris Pearl, chairperson of Patriotic Millionaires, which supports a living wage and a fairer tax system; mediation specialist Kenneth Feinberg; and Raj Sisodia, a founder of the Conscious Capitalism movement.
How are these people related? Perhaps the best answer is in the show's title, a quote from the Book of Mark: "What does it profit a man to gain the whole world, yet forfeit his soul?"
A self-described "recovering investment banker," Dr. Carpenter is a Practitioner Fellow at Georgetown's Kalmanovitz Initiative for Labor and the Working Poor.
"It was not that I was looking for a way out of banking; I was looking for a way deeper into it," she said. "And I wanted to find a place where I could study the nature of work and the responsibilities of wealth."
Dr. Carpenter examines work through the lens of "contributive justice," the right and responsibility of people to contribute to society. "Contributive injustice" refers to all those things—poverty, lack of education, inadequate health care—that "prohibit us from developing into who we're intended to be."
Her work is interdisciplinary, drawing on fields like economics, philosophy, and theology. So, it made sense that, when she searched for a doctoral program, she would seek one that was interdisciplinary as well.
"There are only so many places in the world where you can get an interdisciplinary doctorate," she said. "And I was blessed to have one in my own backyard."