Executive Certificate in
Navigating Polarities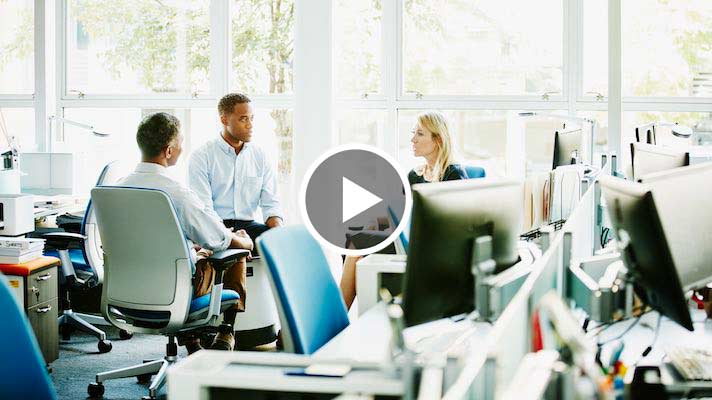 Executive Certificate
Enhance your ability to lead, coach others, and navigate organizational tensions by leveraging seemingly opposing values as tools for change.
Request Information
Executive Certificate in Navigating Polarities: Leading and Coaching in a Complex World
Please note: All classes will be held virtually for the Fall term.
---
Have you ever found yourself caught between two contradictory choices, such as using creative thinking versus logical thinking, or working in a structured manner versus a flexible one? These polarities—or, interdependent opposites—are ubiquitous in today's business landscape. They can be seen everywhere from the clashing powers of growth and efficiency in the startup world to the disparities between confidence and humility in the C-Suite. Unlike problems—which have solutions—polarities represent ongoing dilemmas that must be continually managed.
Georgetown's Executive Certificate in Navigating Polarities: Leading and Coaching in a Complex World empowers you to incorporate these opposing forces into your leadership strategy and leverage them as tools for change.
Designed for senior leaders, coaches, and consultants, our cohort-based program introduces you to practical approaches for managing polarities with confidence. You'll learn how to shift your thinking to adopt a polarity lens, mastering techniques to embody both poles while operating effectively in the space between.
Over the course of the six-month certificate, you'll engage in an interactive experience that blends reading, reflection, coaching, and application. You'll have opportunities to practice self-analysis and introspection, developing a keen awareness and understanding of polarities that impact you on both personal and interpersonal levels. Through this recognition and comprehension, you'll improve your ability to lead and coach others and navigate the tensions of the business landscape.
By the end of the program, you'll be able to successfully identify, navigate, and apply polarities to foster growth and transformation within yourself, your relationships, your organizations, and your surrounding world.
Ideal for: Senior leaders, coaches, consultants

Ideal for

Senior leaders, coaches, consultants

Duration: 3 courses over 6 months

Duration

3 courses over 6 months

Tuition: $6,995

Format: On-campus

Enrollment: All day, 3 weekdays, once a month

Enrollment

All day, 3 weekdays, once a month

Semester of Entry: Fall
This section has testimonials from current students and alumni.
Managing Polarities has been an essential component of transforming the culture of our organization. It is the bedrock of our leadership development program, and has unlocked our leaders potential."

Sharon Blackborow Navigating Polarities

This program was well worth the investment. Every leader and business practitioner should have this multi-functional process as a go-to resource. It has made me a more confident and competent coach and facilitator."

Kim Weinberg Navigating Polarities

We live and work in a complex, fast-paced world with many challenges and few simple solutions. We believe that leaders must understand how to navigate the polarities that are present in their organizations and even in their own values. This program is designed to equip leaders to skillfully manage complex, paradoxical issues. This program is for anyone facing challenges that require growth."

Kate Ebner, Founder, Institute for Transformational Leadership Navigating Polarities
Upon successful completion of the certificate, you'll be able to:
Recognize the polarities that are at play on a personal, interpersonal, and organizational level
Develop awareness and ways to take action by using maps and sense making tools to help others reframe and navigate paradox
Increase ability to stand in and stay with contradiction, complexity, and paradoxical situations and help others develop the ability to do the same
Apply knowledge of polarity theory and practice to create new understanding, embrace resistance, more successfully implement change, and foster action that leads to lasting result
Coach others in navigating polarities
This program has been approved by the International Coach Federation as a Continuing Coach Education Provider (34.75 Core Competencies; 21.75 Resource Development).