Master's in Real Estate
Reina Abboud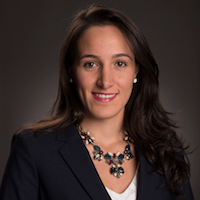 As Reina Abboud describes it, she learned how to be a real estate professional in her Real Estate Entrepreneurship class with Calvin Gladney and Noah Mehrkam.
Not how to become a real estate professional—how to be one. There's a difference.
When she entered Georgetown's graduate Real Estate program in 2014, Abboud was already working in real estate lending in Bethesda, Maryland, after having graduated with an economics degree from the University of Virginia. She knew what it would take to become a real estate professional, the knowledge and technical skills she would need. But for a field that is as much art as science, where the ability to connect with different kinds of people in often-pressure-filled environments is critical—for that, one needs something more. And she got that in Gladney's and Mehrkam's class.
"These are two people who are true entrepreneurs in their field. They taught us how to stand out, something that is invaluable in the industry," said Abboud, who graduated from the Real Estate program in 2016 and was named a Vice President of NorthMarq Capital's Richmond office in December after working at Phillips Realty Capital. "In my new role, I'm working to stand out every day, trying to demonstrate what value I can add to a new client in a world that is flooded with mortgage bankers."
Previously, Abboud worked in lending. Now she has transitioned to the brokerage side and is concentrating on her passion: Multifamily housing, and especially, housing that is affordable to a wide variety of people.
Originally from Jordan, she wrote her Capstone on strategies for addressing the lack of affordable housing in that country. It's a common problem throughout the world.
"It's also a huge problem in the United States," Abboud said. "We have a vast shortage of it, too, and cities across the country are working on ways to address it.