Doctor of Liberal Studies
Donald Pruefer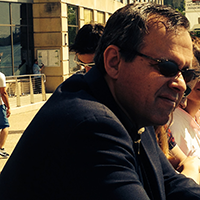 Call him prescient, if you'd like, but Donald Pruefer insists he "had no idea war would break out" when he began researching Russian nationalism in May 2008—three months before Vladimir Putin's armies invaded the former Soviet Socialist Republic of Georgia.
Still, Pruefer, who had just started Georgetown's Doctor of Liberal Studies program, had already shown an uncanny ability to pick research topics that would later make headlines. For example, in his 1998 master's thesis at Indiana University he examined the decommissioning of Russia's nuclear-powered vessels, believing that the careless manner in which the process was being handled would result in an accident. ("Not an 'if,' but a 'when,'" as he put it.) In August 2000, the Kurtz, a nuclear-powered submarine, sank in the Barents Sea after a faulty torpedo exploded during naval exercises.
Pruefer is a 20-year veteran of the U.S. Army, rising from noncommissioned officer to Major before retiring in 2003. Fluent in Russian, he is now a Program Manager at a defense contractor in the D.C. area, specializing in military planning and support, area research, and advisory services to government and private customers.
He said the Doctor of Liberal Studies program, from which he received his doctorate last year, encouraged him to explore and connect broad areas of interest.
"The interdisciplinary aspect allowed me to take any courses I needed at the University," he said. "I was able to find my own path to the study of Russian nationalism, with the help of critical sources and thinkers at Georgetown and elsewhere."
In the spring of 2008, Russo-Georgian tensions were rising; and Putin, whom Pruefer calls an "unbelievably adept reader of human emotions," was able to exploit both Russians' ethnic pride and the hurt many had experienced at the breakup of the Soviet Union. His thesis explores the deep roots of Russian ethno-nationalism and the myriad factors that affect it.
Leaders like Putin "don't create the wave," Pruefer said. "They just get on the board and know how to ride it."