Degrees and Programs in
Higher Education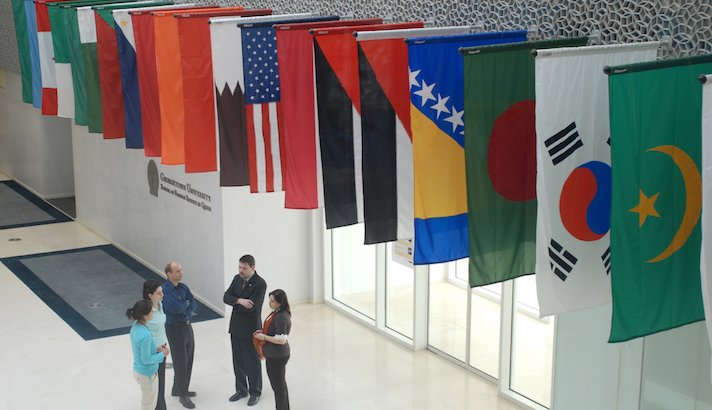 Executive Master's Degree
Develop the strategic thinking and global perspective needed to thrive as a leader in higher education.
Request Information
Overview
Georgetown's Executive Master of Professional Studies in Global Higher Education empowers you to lead educational initiatives across cultural and international borders.
Our cohort-based program immerses you in a collaborative and dynamic learning experience. Designed for executive and senior-level administrators, our program emphasizes global engagement. You'll gain a deeper understanding of higher education on an international scale while mastering the skills you can immediately put to use in the workplace.
Our curriculum takes a comprehensive approach to global higher education, examining the field through the lenses of accreditation, compliance, finance, and cultural awareness. Over the course of five semesters, you'll complete a blend of online coursework and on-site residencies—both within and outside the United States—where you'll be exposed to some of today's most critical higher education challenges and opportunities.
During each one-week residency, you'll gain hands-on practice working within different geographical and cultural educational frameworks, where you'll address complexities such as policy and law, ethics, economics, and leadership. You'll also have opportunities to connect with some of the nation's leading higher education experts and organizations through real-world client engagements and case studies.
This section has testimonials from current students and alumni.
As globalization has become the focal point of higher education, there is a distinct need for educators who understand the complexities of this phenomenon in order to lead new and exciting initiatives. Our hybrid online and face-to-face program empowers professionals for a range of leadership roles in global higher education."

Stephanie Kim, Ph.D., Faculty Director Executive Master's in Global Higher Education
In between residencies, you'll learn through a combination of real-time lectures, online coursework, and group discussions. This component of the program is entirely virtual, so you can complete your studies from your home or office.
You'll leave the program with the strategic thinking and global perspective needed to thrive as an innovative and practiced leader in the higher education space.
*Tuition for the Summer 2019, Fall 2019, and Spring 2020 terms will be available in early 2019.
---