Master's in Real Estate
Joanna Shapiro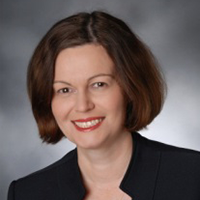 Joanna Shapiro didn't have a particular candidate in mind to teach the class she was proposing. A Managing Director for Global Client Management at Bank of New York Mellon and a member of the Advisory Board for Georgetown University's Master of Professional Studies in Real Estate, she felt the program needed an intermediary course to bridge the gap between entry-level finance and the more advanced study of complex transactions.
The other board members agreed. Now—who to teach the class?
Ideally, it would be someone who knew the program well and was an expert in the field. A senior executive with extensive experience in the public and private sectors. A highly successful professional who had forged strong working relationships within the financial services community.
That's how Shapiro, a graduate of the Real Estate program's inaugural class, began teaching the Capital Markets course.
When she started the program in 2008, Shapiro already owned her own company and had acquired specialized skills in the process of securitization, whereby illiquid assets, such as home mortgages, are converted into securities.
But she wanted to gain more knowledge than she could learn on the job. And, even though she ended up staying in finance, she wanted to explore the development side of the field.
After submitting her Capstone, she was asked to become a thesis advisor. Now an instructor and mentor, she encourages students to be flexible in a fast-paced field in which relationships are key and opportunities may appear in unexpected places.
"When you're 21, 25, you have this life plan, this career plan," Shapiro said. "You really have to think that this finely tuned career plan will change."