Master's in Real Estate
Glen Lambinicio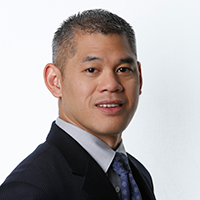 Glen Lambinicio still has to smile when students call him "professor" or "Mr. Lambinicio." After all, it hasn't been that long since he was a student in the inaugural class of Georgetown University's Master of Professional Studies in Real Estate, where he now co-teaches Fundamentals of Real Estate.
When Lambinicio started the program, he might have been a little older than some of the other students, and he had more experience. But that experience was in investment analysis, not specifically real estate. And when his employer was acquired by a larger investment firm with significant assets in alternative investments (including real estate), Lambinicio decided he needed more specialized real estate training.
"That's when I decided to go to Georgetown," said Lambinicio, now a portfolio strategist. "It really helped me become a subject matter expert with something I was already involved in."
Once in the program, Lambinicio realized he knew more about real estate than he thought—he was just looking at it through a finance lens.
After graduating, Lambinicio helped create an alumni association for the program. D.C. is a small town when it comes to real estate, and in a field where networking is essential, it was important to him to get something started.
For the past seven semesters, Lambinicio has been co-teaching the Foundations course with James King, a consultant for PricewaterhouseCooopers. Lambinicio enjoys helping students with career questions that he might have asked himself just a few years ago. And with his background in finance, and King's expertise in architecture, corporate real estate, and project development, the two can present a comprehensive view of a field that is fascinating, complex, and constantly changing.
"It's mainly about being able to give back," Lambinicio said. "I've kind of gone around full circle."