Master's in Real Estate
Kwabena Osei-Sarpong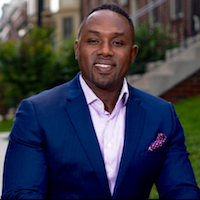 Some people are just born entrepreneurs, and they carry that adventurous spirit wherever they go.
Take Kwabena Osei-Sarpong, who grew up in Ghana and worked as a teenager in his family's boutique clothing store. Managing a store was one thing, but he saw an opportunity to help the business grow and also help customers who didn't have enough money to make a purchase right away. Osei-Sarpong thought: Why not let customers put 5 percent down and work out an easy payment plan? It was a simple idea that worked.
Scroll ahead a few years to when he was an undergraduate business student at Radford University in Virginia. Seeking to help the community, he organized a student group called Radford in Free Enterprise (RIFE) that provided consulting services for local businesses.
After graduating from college he joined a Washington, D.C., startup as the firm's first employee and helped grow it into a multi-million-dollar enterprise, serving in a COO capacity.
A few years later, it was time to start his own company, RIFE International (Real Estate, Infrastructure, Facilities, and Energy). The company offers full-service energy efficiency and sustainable construction solutions to a host of high-profile clients, including the Department of Energy, University of Maryland, Bank of America, and several Smithsonian Institution museum facilities, to name a few.
Osei-Sarpong is a 2012 graduate of Georgetown's Real Estate program, where he focused on sustainable development. For his Capstone, he researched energy efficiency and off-grid challenges facing infrastructure in Africa, and today his company, which employs about 30 people, provides such solutions with offices in Accra, Ghana, as well as in Baltimore and Washington, D.C.
This year Osei-Sarpong was named one of the Washington Business Journal's 40 Under 40 honorees. It's a fitting tribute to a creative entrepreneur who wants to give back to society—and take on some challenges along the way.
"I've always had a passion for solving problems," Osei-Sarpong said. "It just connects to a part of me that wants to find a solution."