Master's in Real Estate
Alex Pettee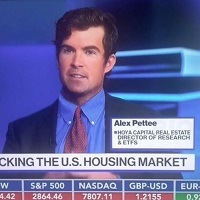 It's not uncommon for students in Georgetown's Master's in Real Estate program to work on final projects that they turn into real business endeavors. But few people have had quite the experience of 2014 graduate Alex Pettee.
"It's not unusual for students to have a Capstone proposal implemented, and it's great when it happens," said Faculty Director Glenn Williamson. "But the level of this—to be an Exchange-Traded fund on Wall Street—is exceptional."
That's right. On March 20, 2019, Pettee's Exchange-Traded Fund—the aptly named Hoya Capital Housing ETF (ticker symbol: HOMZ) debuted on the New York Stock Exchange.
An ETF is an investment fund that typically tracks a stock index. HOMZ is unique in that it doesn't just target spending for one market segment—say, home sales or rental income. It examines that entire housing and home-owning sector, everything from home-building and renovations, to the rental market and home furnishings, to housing-related retails such as Lowe's and Home Depot.
At Georgetown, Pettee was fortunate to have Jonathan Morris, a former partner at Boston Properties to teach his class in Real Estate Investment Trusts (REITs) and serve as his Capstone advisor and mentor. Pettee used the insights from his thesis, The Modern Real Estate Investment Trust, to publish research on the real estate market through a firm he founded in 2014 called Hoya Capital Real Estate. Five years later, he launched his NYST-traded ETF.
"[Morris] taught me so much of what I know about REITs and real estate," said Pettee, who is also a graduate of the University's McDonough School of Business. "It shows that Georgetown is a place where faculty are really willing to go the extra mile in the classroom and in a student's career."