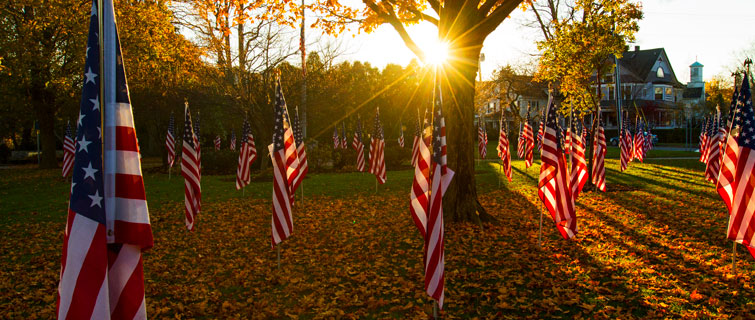 November 11 marks a day of remembrance, reflection, and celebration of veterans and members of the military. In the spirit of Veterans Day, we asked our military-connected students and alumni to share their stories and advice they would share with those from the military embarking on a new learning journey at Georgetown:
Connect with Other Veterans

"Georgetown has a population of more than 1,200 military-affiliated students. It has been incredibly helpful to connect with Military Hoyas who understand the unique challenges I have faced as a student veteran," said Brittany Walker, U.S. Army Staff Sergeant Combat veteran (OIF 07–09) and Global Hospitality Leadership student.

"I found comfort in talking to other veterans and realizing that my feeling of being overwhelmed was normal and shared by most," said Maura McGraw, Marine Corps veteran and Master's in Real Estate student.

"It's nice to have fellow veterans in the program with me. We share a common sense of community and understanding," shared Charlene Printz, 1st Lt. Air Force veteran and Master's in Applied Intelligence student.

"Connect with other veterans on campus, you don't need to do it alone. I am so grateful for the advice and fellowship I have received from the veterans in each of my classes," said Corporal James Shea, U.S. Marine Veteran and Bachelor of Arts in Liberal Studies student.

Join the Student Veterans of America

"The best advice I can give to new student veterans beginning their academic journeys at Georgetown is to become a member of Student Veterans of America (SVA). When I separated from the Army I underestimated how difficult it would be to navigate the civilian world, especially as a student," said Walker. "It was difficult for me to identify with others on campus and I also found it challenging to find accurate information regarding education benefits. Student Veterans of America helped me acclimate and the organization also provided a wealth of resources that I have used to be successful in my academic endeavors."

"GUSVA is an amazing organization. I would strongly encourage you to attend, participate, and be active in the student veteran community," says Tonyray Silva, E-5 U.S. Army veteran and Master's in Sports Industry Management student.

Share Your Perspective

"Although we may not have as much technical expertise as some of our student peers, veterans have a lot to offer in the classroom because of our unique leadership experiences. I was pleasantly surprised that many people liked hearing my opinion about things," said McGraw.

"Don't be afraid to share your experiences. A lot of what you have done for the military applies to the civilian industry as well. And ask questions, lots of them," said Jason Welch, U.S. Army Captain and Master's in Public Relations & Corporate Communications student. Welch was so committed to sharing his perspective that he even brought MREs (meals ready to eat) for his classmates to try, as they had "never experienced the joy of Army field rations."

Reflect and Remember on Veterans Day

"We are a group of people who now see the world through a different lens. We appreciate the little things that others overlook, we brush off petty unimportant things that others can't help but lose their patience over, we understand that tomorrow isn't promised and that people we grew to know and love paid for that understanding with their lives," said Silva.

McGraw personally remembers those who have passed: "On Veterans Day, I like to take time to honor my brothers and sisters in arms who have gone before me, especially the ones who have passed away. In particular, I usually think about these three Marines that I served with who passed away: Patrick Wayland, Matt Manoukian, and Jason Thomas."

Marshall Posey, Sra-USAF and LTC-South Carolina State Guard veteran and incoming Master's in Cybersecurity Risk Management student remembers "those that went before me, the people I served with over the years, and the countless acts of bravery our men and women in uniform perform."

Mark Ty Purvis, U.S. Army Warrant Officer - I veteran and Georgetown certificate student shares, "Veterans Day is a time to remember those who have served our country. It is a day of reflection, a day to give thanks, a day to be grateful for all we do have."
The School of Continuing Studies is proud to support our veteran and military-connected community, and we are grateful and inspired by their unparalleled contributions to our country and across our Georgetown community. Many thanks to our students who shared their stories. We hope that others in the military community may find their stories helpful as they navigate their own unique learning journeys.
Learn more