Product Management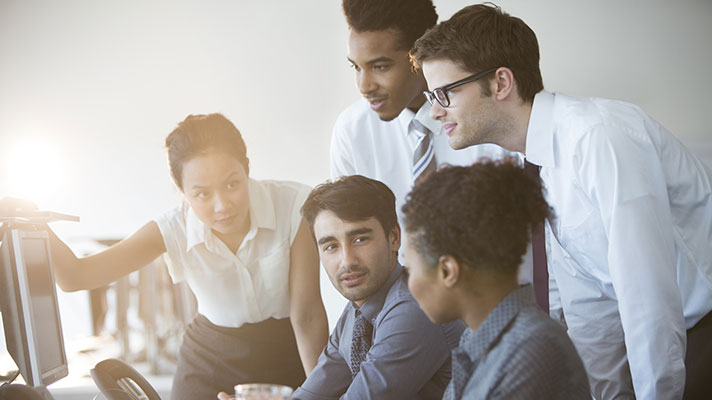 Certificate Program
Learn how to deliver high-impact digital products using the latest human-centered design and agile management techniques.
Register Now
Request Information
Please note: All classes will be taught in a Flex Learning environment for the Spring—using live Zoom video conferencing—to mirror a more traditional classroom with regular interaction, engaging activities, and the dynamic exploration of topics and concepts.
---
Georgetown's Certificate in Product Management prepares you to deliver high-quality digital products to your users and customers.
Our cross-disciplinary program combines product management, design, and engineering. You'll develop the skills needed to ship successful products using modern tools and methods, including human-centered design, agile and lean management methods, and continuous integration and delivery. Throughout the program, you'll also work with classmates to design and deliver minimum viable products (MVPs).
In the classroom, you'll learn from seasoned faculty members, who incorporate real-world examples, lessons learned, prestigious guest speakers, modern tools, and industry expertise into their lessons.
You'll leave the program as a more effective, strategic, and confident product manager who understands how to create an organizational culture that enables small, empowered teams to quickly and effectively deliver value.
Ideal for: Product, project, and business managers

Ideal for

Product, project, and business managers

Duration: 3 days

Tuition: $2,995

Format: Flex Learning

Schedule: Monday-Wednesday

Schedule

Monday-Wednesday

Semester of Entry: Fall & spring

Semester of Entry

Fall & spring
Testimonials from current students and alumni.
This program played a vital role in shaping my understanding of product roles and their importance within dynamic organizations. As a professional seeking to pivot into the product management environment, this course not only confirmed my desire to pursue a career change but also instilled the confidence to take the leap."

Caleb Jones Product Management

While project management focuses on managing to a plan, delivering something on-time, and on-budget, product management focuses on delivering the right thing to users based on understanding their real needs. There's very little value in delivering something on-time and on-budget, if it's the wrong thing."

Kelly O'Connor, Faculty Product Management
Upon successful completion of the certificate, you'll be able to:
Differentiate between project management and product management methods
Apply concepts of Human-Centered Design (HCD), Agile, Kanban, and DevOps to deliver digital products
Lead teams to conduct discovery sprints and user research, develop rapid prototypes, define and ship minimum viable products (MVPs), and create and implement product roadmaps
Enable continuous deployment and integration
Measure and report product outcomes using data to tell better stories about success
---